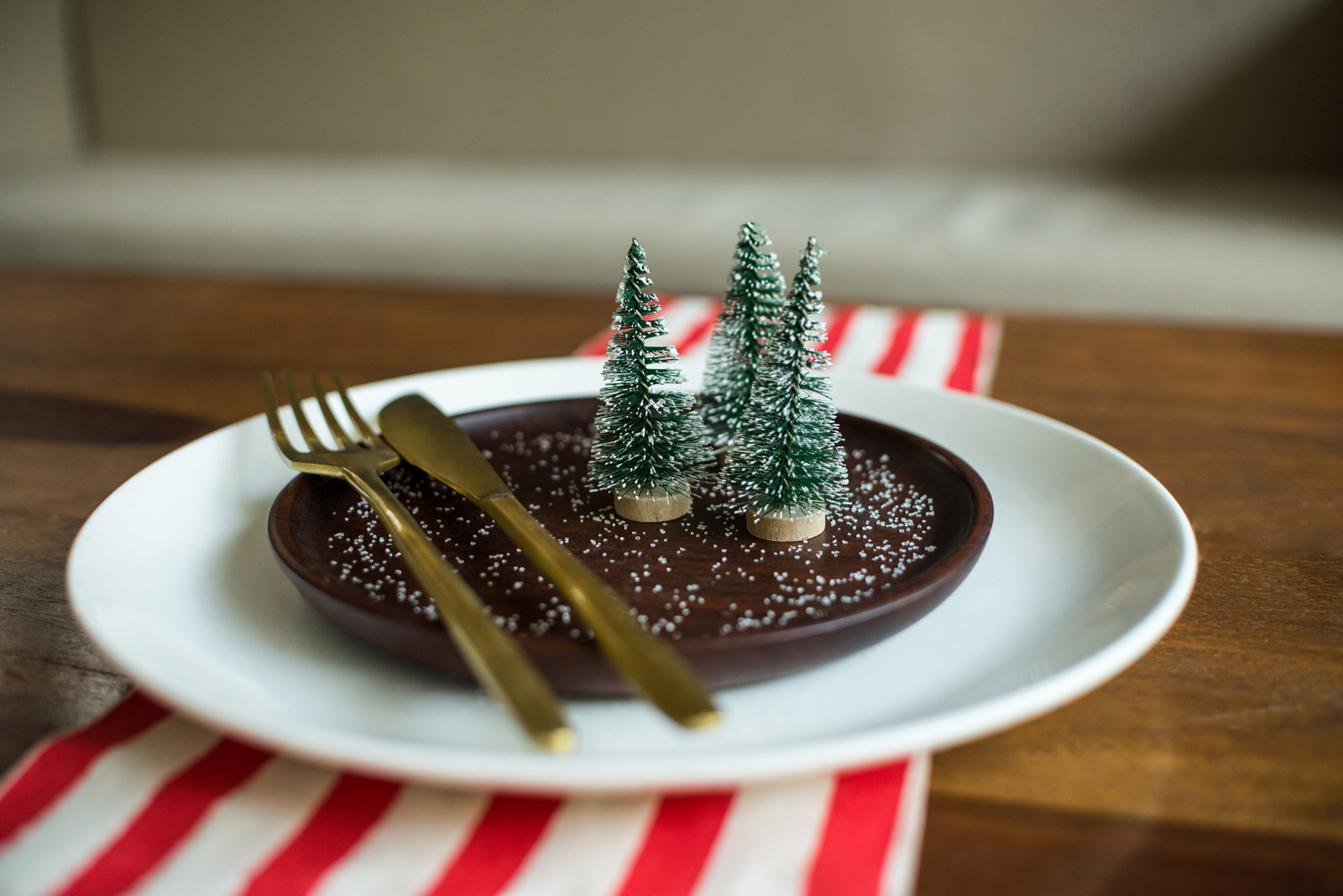 There isn't a more dramatic way to set up a meal than staging a mini tableau right on the plate. Find little woodsy elements like decorative firs to whisk your guests away, right into the heart of the forest. Garnish with a light dusting of powdered sugar for snow.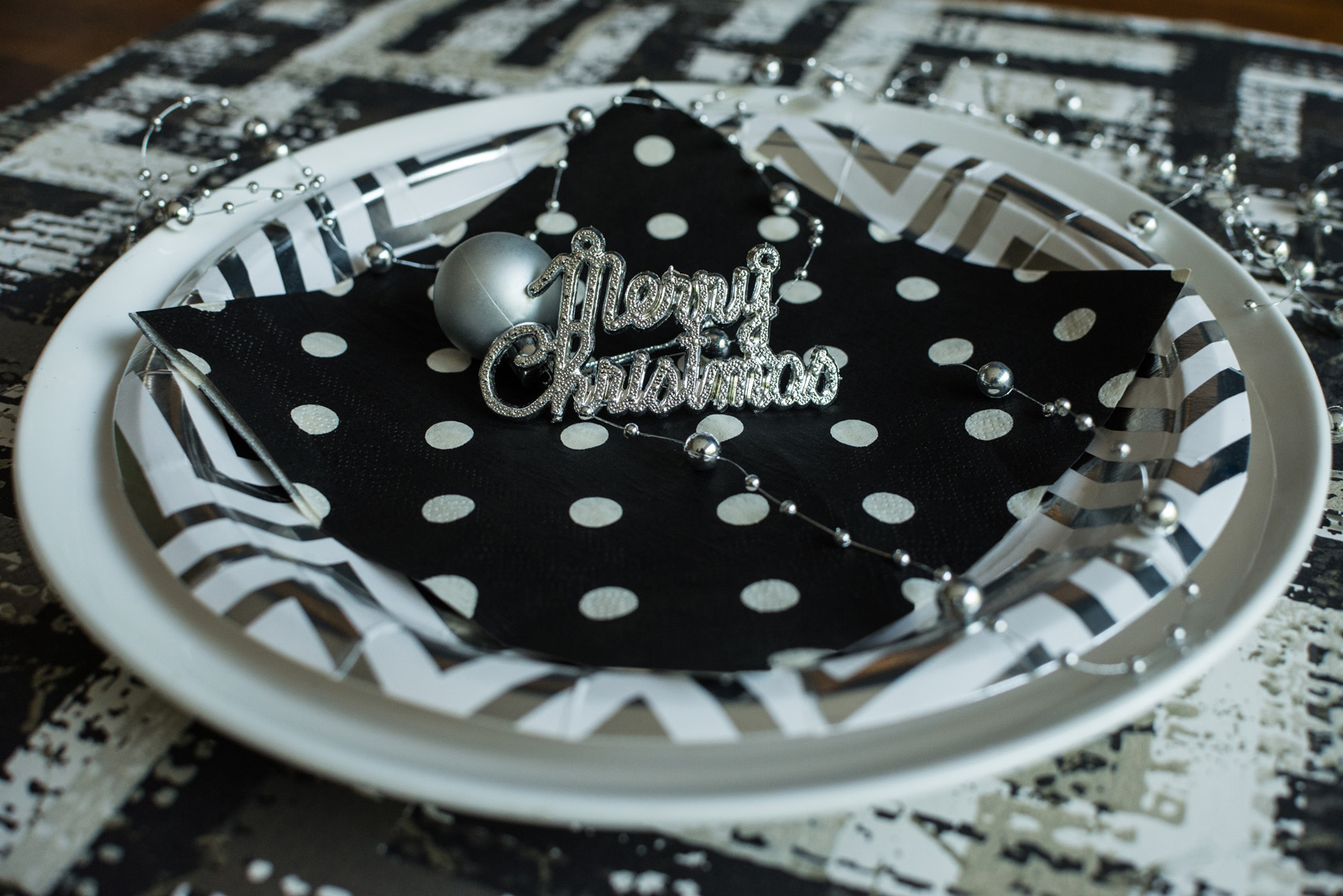 Take a bold step and go monochrome. Elevate your table with this contemporary colour palette by adding accent pieces in grey and silver. With a theme this simple, go all out and have fun with patterned plates, napkins and table mats for an effect that will leave your guest wondering how you pulled it off.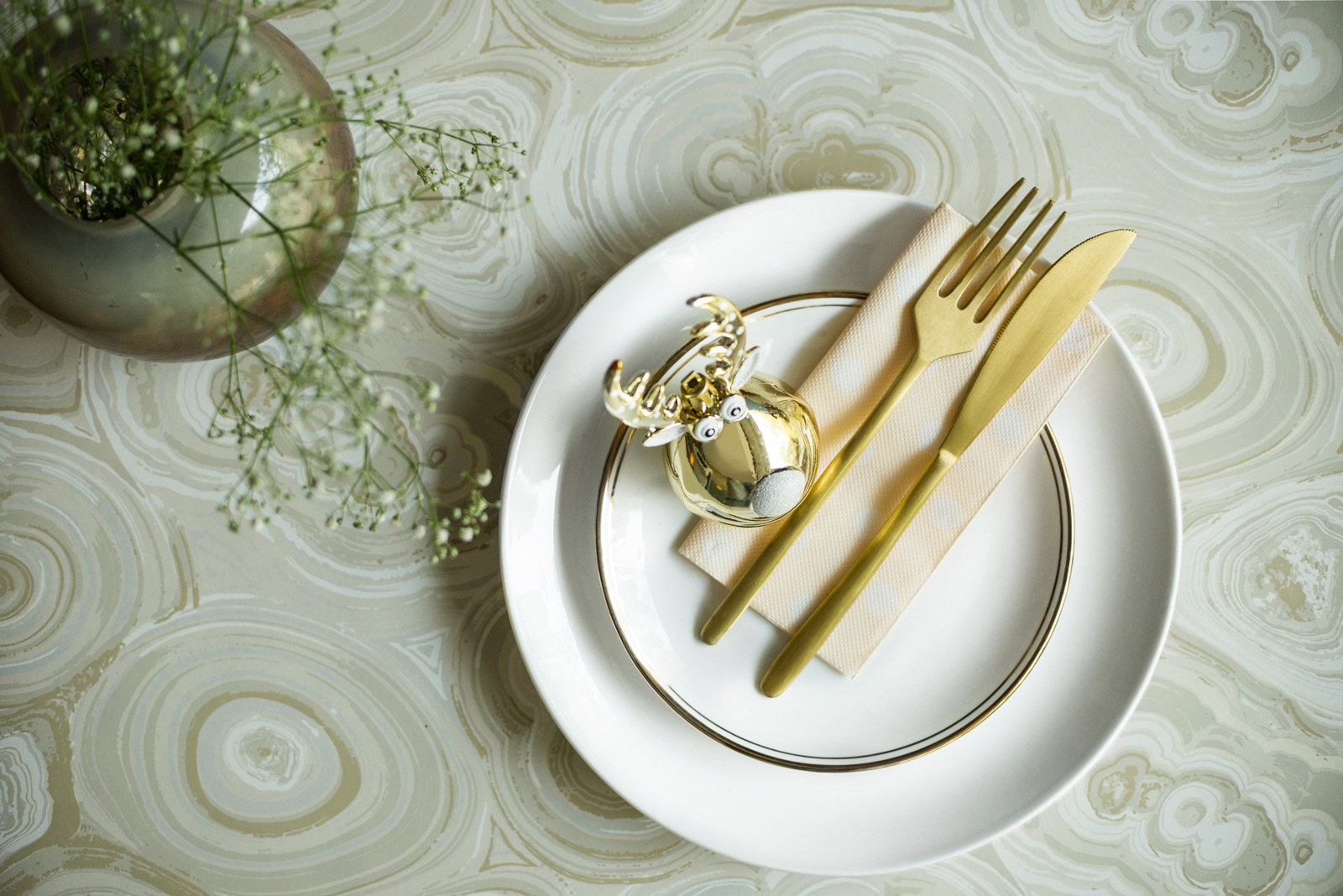 Sophisticated and fuss-free, this marbled table liner will take you through a whole season of dinner parties right into the New Year. A new take on old traditions, elevate this simple set-up with gold-rimmed crockery, delicate sprigs of Gypsophila and miniature reindeer napkin weights.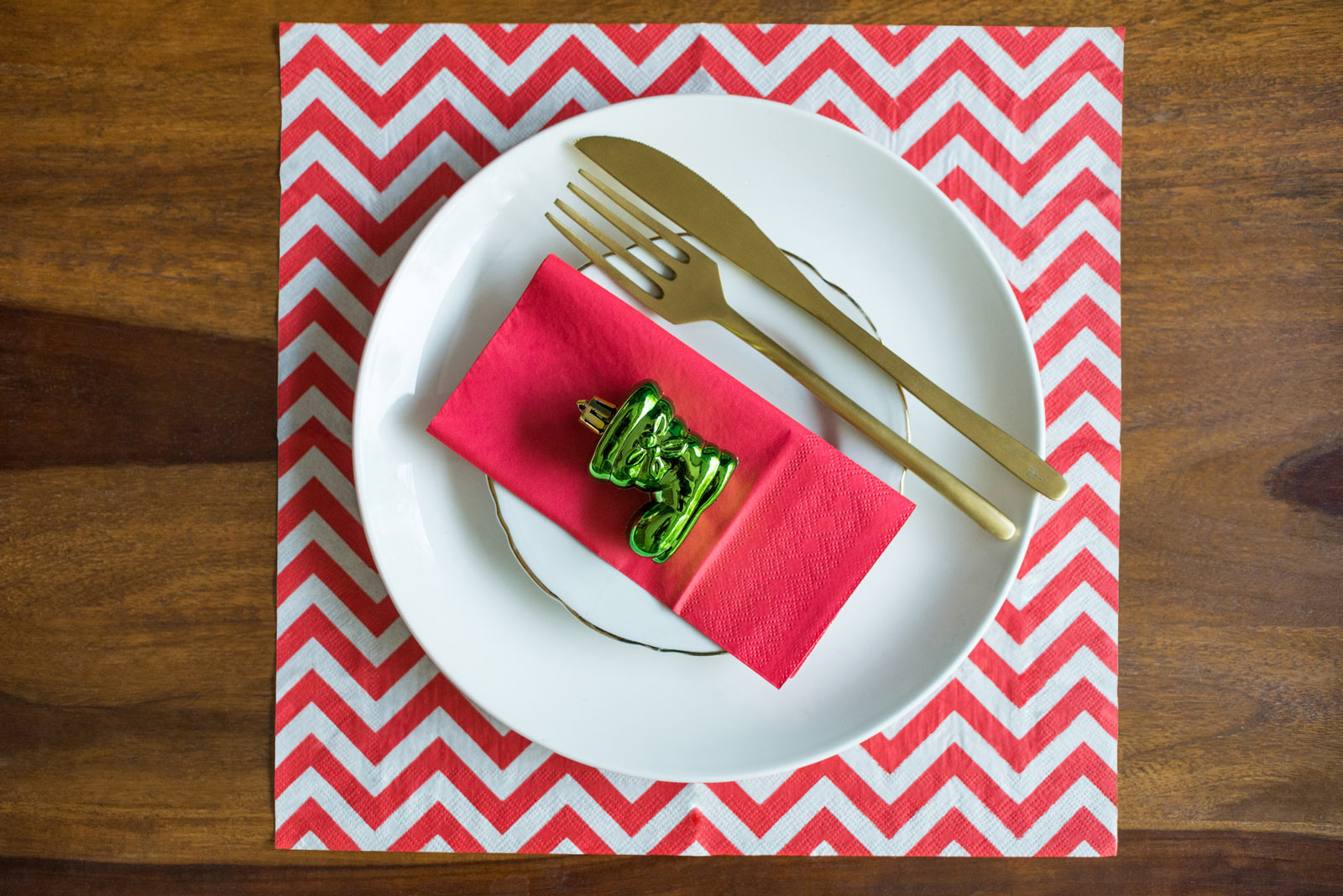 Have children in attendance? Substitute stuffy placemats with bright chevron paper napkins and place a takeaway Christmas decoration at the centre of the plate. A little present at the start of the meal will keep the kids entertained and everyone else happy.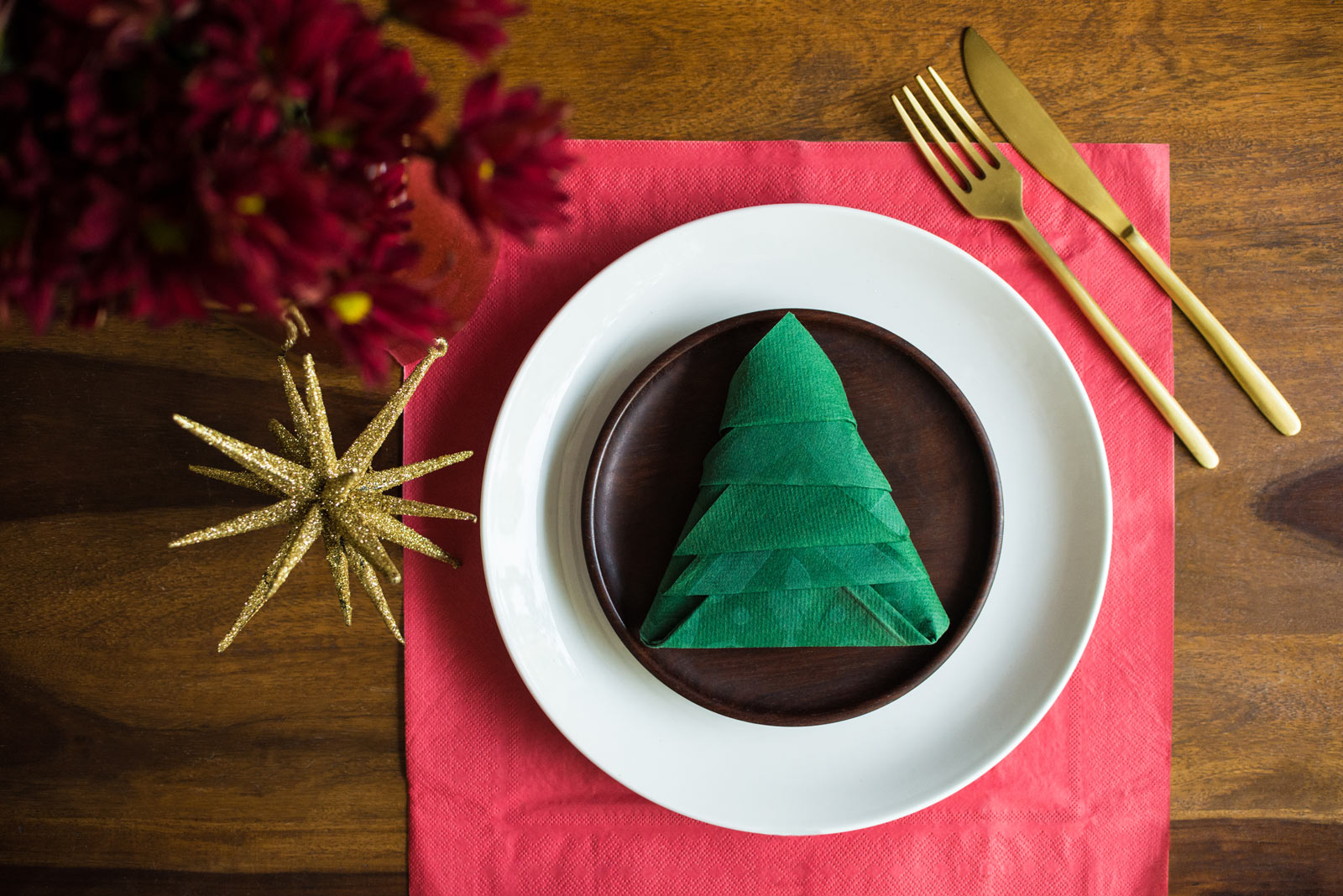 How about the perfect conversation starter until you begin eating? Make an impressive start to your dinner with an origami napkin that stands out. Elf hats or Christmas trees in a contrast colour are quick and easy to do.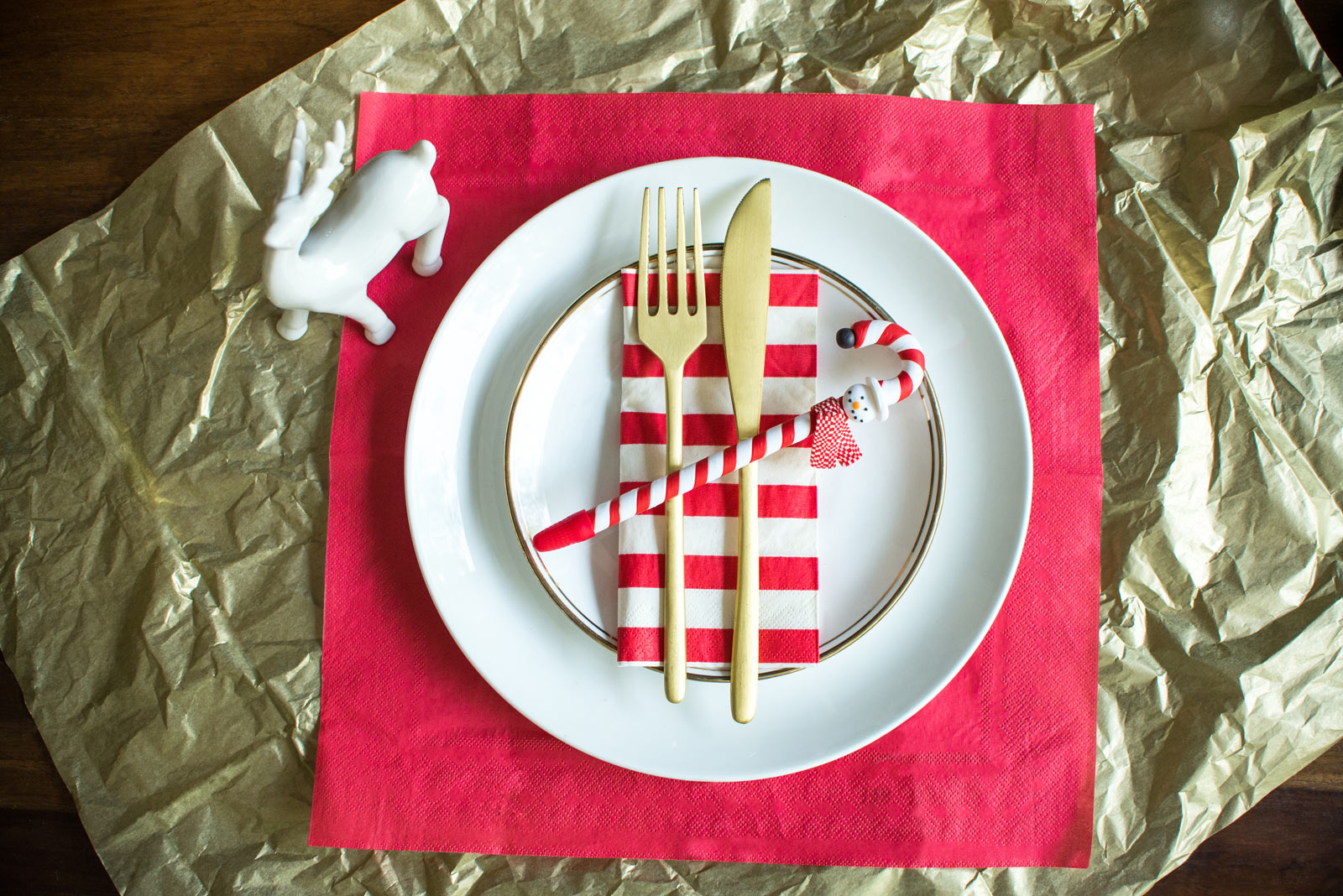 Naughty or nice, the idea of candy cane treats is always welcome. Add some to your plates for a decidedly 'Christmassy' feel. Break up the candy stripe theme by skewing roughly crinkled wrapping paper beneath each setting for an experimental look you can do in minutes.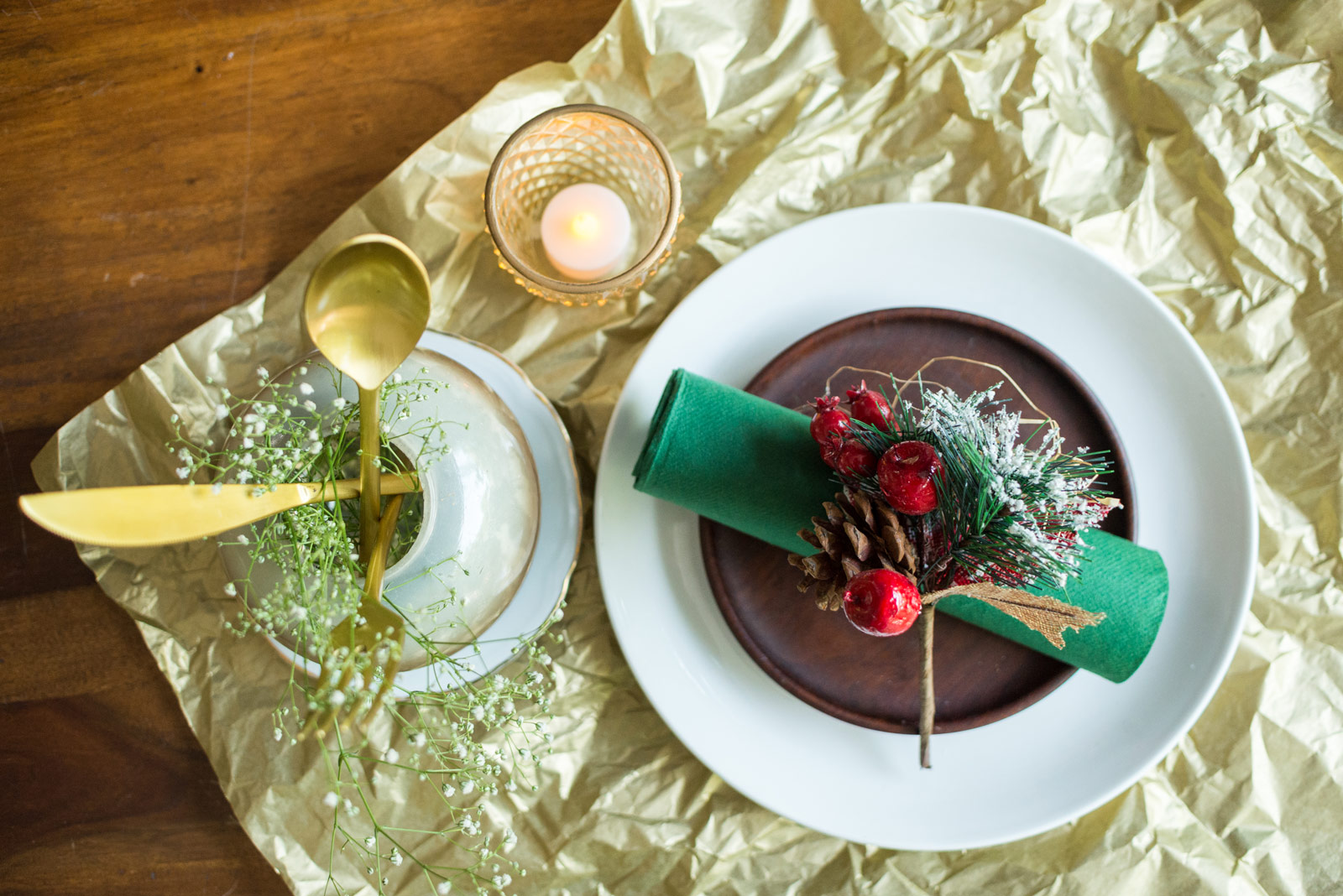 Nothing quite warms up a holiday meal like the addition of natural elements. Put together pine cones, berries and stems for a napkin ring that suggests Christmas woodlands, complete with tea-lights for that perfect radiant glow. Find a cool new use for mini vases by placing cutlery in them and take your table settings to the next level.
If the thought of staid tablecloths is making you roll your eyes, try this. Layer large sheets of textured wrapping paper over the whole table, add clean, minimalistic accent pieces and place your flatware neatly to breathe new life into a traditional meal.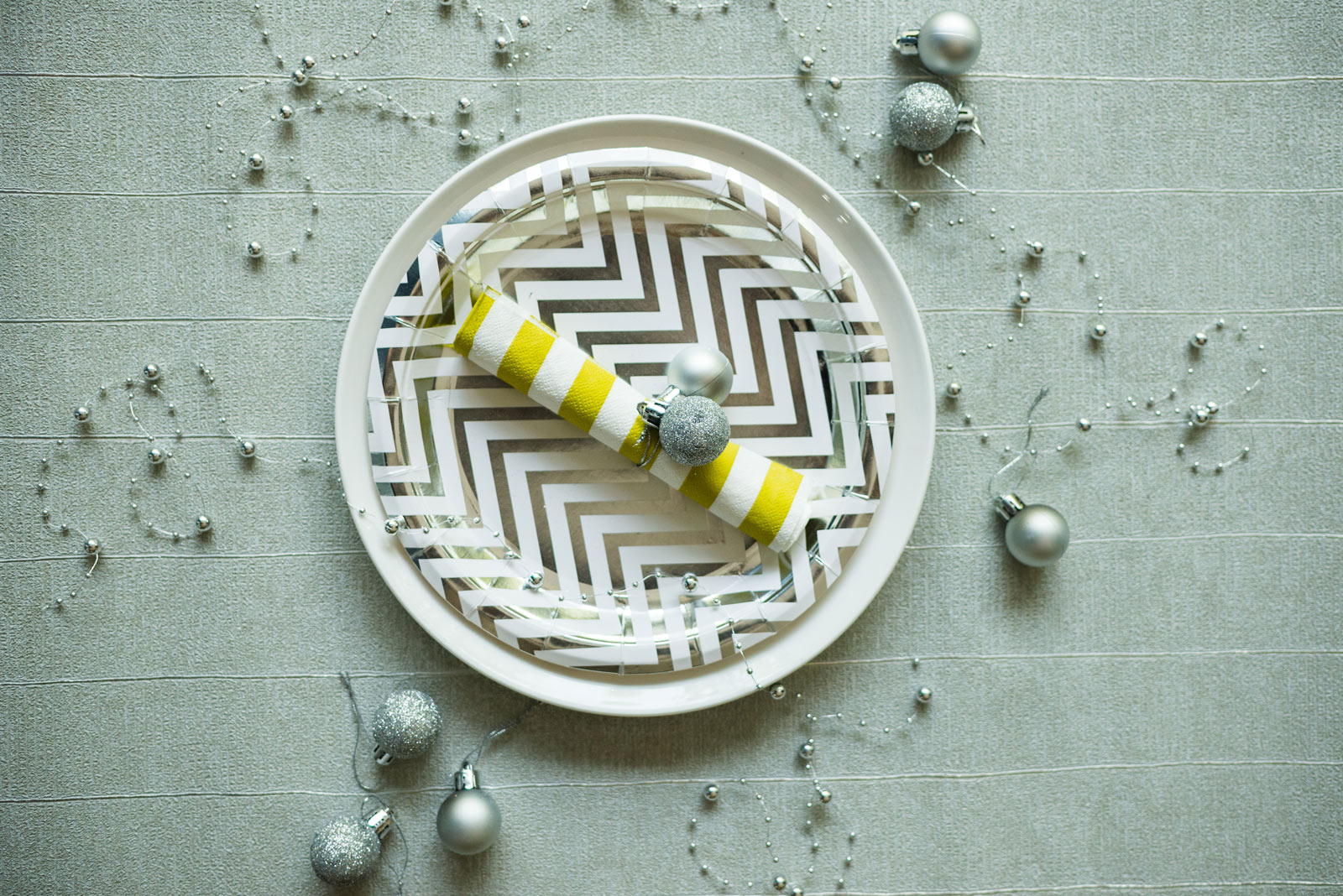 If Christmas is starting to feel like an explosion of bright decorations screaming for attention, you can opt for some Scandinavian-inspired minimalism. Pick one or two muted colours to work with and a hint of colour or pattern to top it off. Use this to your advantage and make your feast the real showstopper.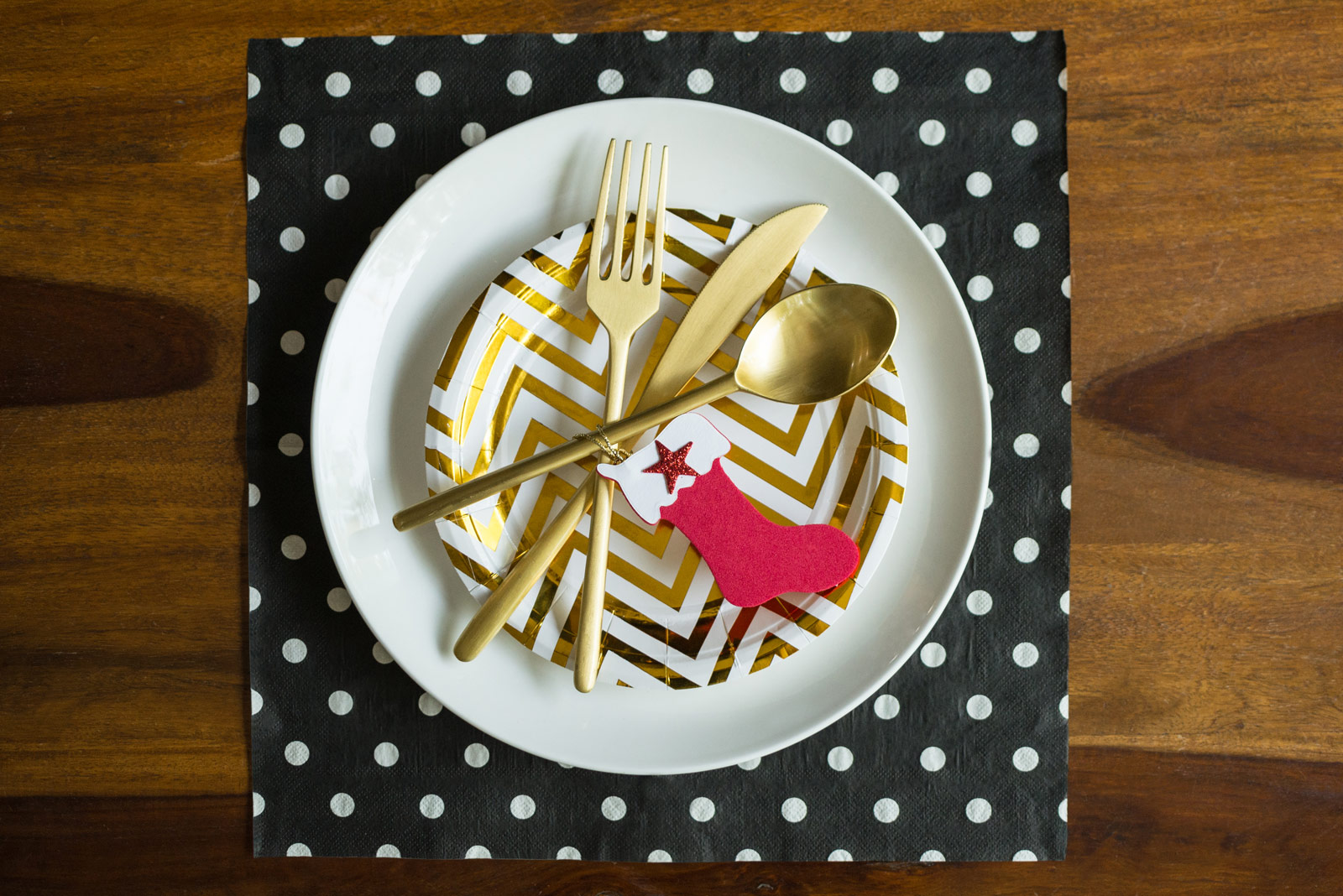 The holiday season need not always be about fussy flatware and ornate crockery. Keep things light and casual by bundling your crockery, swapping ceramic wear for patterned disposable plates and doubling your napkins as placemats. DIY simple name tags and attach for that final, fun touch. Bonus: You'll spend less time worrying about washing up and more time enjoying the company!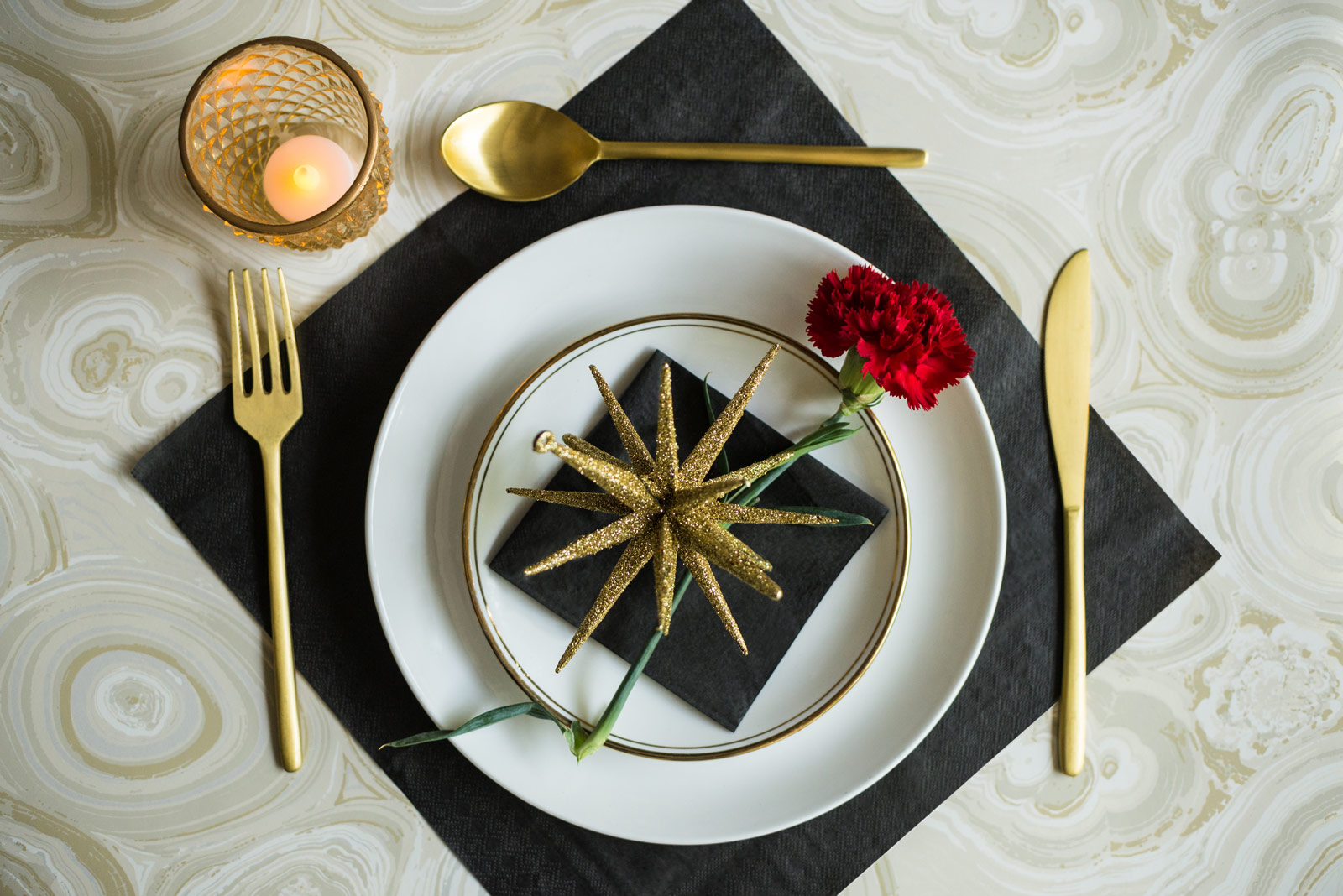 A simple yet stunning way to break up a black, white and gold layout is the addition of a deep crimson blossom. A single long-stemmed rose, carnation or calla lily held down by a glittery bauble is enough to add a dramatic touch to any sit-down meal.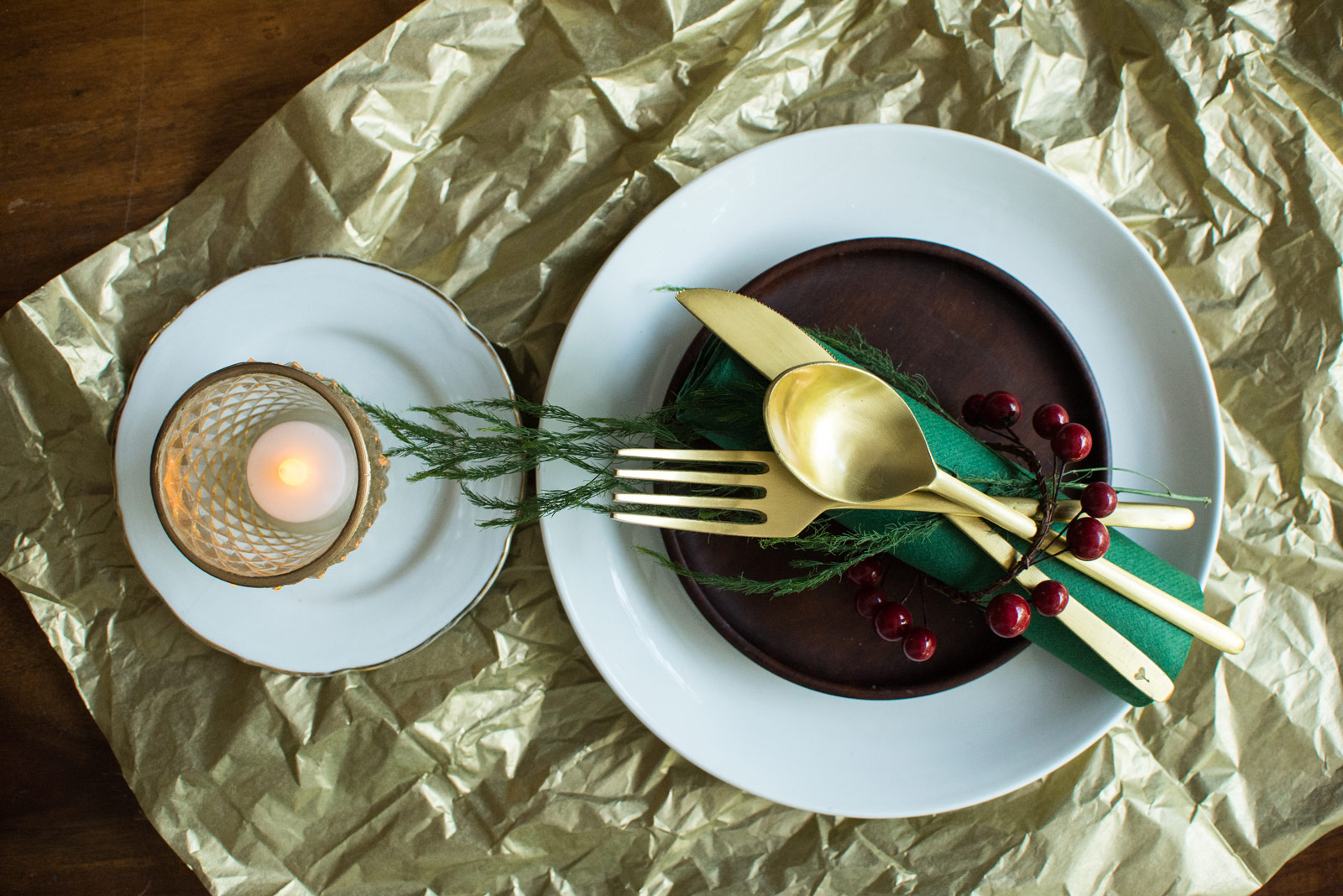 When working with modern elements and textures, it's still possible to infuse some traditional holiday cheer with focal points. Set each individual setting with a DIY berry wreath against a green napkin and a contrasting brown plate. A tea light placed nearby completes this easy elegant look.